What We Did and How We Did It
Here's the short version
We're suing New York City for the first-ever public access to the scanned images of ~1.6 million NYC death certificates for New Yorkers who died between 1949-1968, which is 50 to 75 years ago. These records would be open to the public if the deaths had occurred in any other county in New York State outside the city limits.
We're also suing to get the new awful rules restricting public access to historical New York City vital records thrown out by the judge.
Here's the longer version, from our newsletter
our twenty-ninth exciting newsletter
OUR BIGGEST LAWSUIT EVER
Reclaim The Records seeks first-ever public access to 1.6 million death certificates for New Yorkers who died between 1949-1968
AND
Asks court to overturn recently-enacted restrictions on access
Non-profit organization Reclaim The Records files ninth Freedom of Information lawsuit, asking New York State Supreme Court to overturn burdensome and irrational restrictions placed on historical records in New York City; group seeks to acquire and provide free online access to 1.6 million death records
Hello again from Reclaim The Records! We're that scrappy little activist group of genealogists, historians, journalists, and open government advocates, fighting for better public access to government-held genealogical and historical documents. And today, we have some very exciting news.
We just filed a new lawsuit, the biggest, baddest Freedom of Information lawsuit that we've ever filed. It's a milestone case, not only for our organization, but also for how genealogists, historians, and researchers as a community deal with government agencies who routinely withhold historical records from the public, and who pass capricious and irrational restrictions on public access.
Yesterday afternoon, in the Supreme Court of New York, New York County, we filed an Article 78 Petition against the following agencies and people:
The New York City Department of Mental Health and Hygiene
The New York City Bureau of Vital Statistics
The New York City Board of Health
Oxiris Barbot in her official capacity as New York City Commissioner of Health
Gretchen Van Wye in her official capacity as New York City Registrar
And last but certainly not least, Steven P. Schwartz in his official capacity as former New York City Registrar
This Petition challenges not only the Department of Health's refusal to disclose records to us based on New York's Freedom of Information Law (FOIL), but it also challenges the Department of Health's restrictive regulations themselves. Additionally, this is the first time that our organization has gone after actual vital record certificates, as opposed to a records index of some sort.
This is also the first time, to our knowledge, that a Registrar of vital records has specifically been named in a lawsuit based on the policies that he or she actually promoted to restrict access to records.
Here's what we're fighting for, Part I
We're asking for uncertified digital scans of every New York City death certificate from 1949-1968. Based on publicly available resources, we believe this to be 1,688,220 certificates, give or take a few, which the Vital Records department has already scanned.
Right now, only death certificates through 1948 are available to the public, at the NYC Municipal Archives, but everything else is locked up by the Department of Health, even death certificates that are more than fifty years old.
And this is especially galling because death certificates are completely open to the public in thirteen states, including California and Massachusetts. Another eight states have restrictions on death certificate accessibility that are more than zero but less than fifty years. And in another twenty-three states, fifty years is the rule.
This even includes every other part of New York State, where the rule is also fifty years! But in the past eighteen months, New York City's Department of Health has pushed through horribly restrictive new rules that changed the City's embargo time period to seventy-five years. Even for records of people who are really quite dead.
This is only possible because of a legal oddity in which New York City is its own vital records jurisdiction, which gives it some authority to set its own policies. It is the only city in the country (aside from Washington DC) whose vital records are not governed entirely by the state in which it is located. But although the Department has much more leeway than most other cities, they are still bound by New York laws, including the Freedom of Information law.
So we requested under FOIL copies of all death records from New York City that are over fifty years old, ones that would be available to the public if the decedent had died in, say, Yonkers or Buffalo or anywhere else in the state outside the city limits. This is why we've limited our request to 1949-1968. But the Department of Health denied our request.
So, the first part of our suit seeks to reclaim those records. But the Department of Health denied our request specifically because of their new restrictive rules, which they passed in the face of overwhelming public opposition.
Which brings us to the next part of this lawsuit.
Here's what we're fighting for, Part II
We are trying to strike down New York City's ridiculously restrictive new access rules to these historical materials. We're asking the judge to rule that the New York City Department of Health and Board of Health created irrational rules and exceeded their authority in making local rules and policies that are more strict than the actual state law.
Yes, NYC is empowered to have its own Department of Health, separate from the rest of the state. But if it enacts new rules, they have to be rational. If an agency passes rules that are "arbitrary and capricious" or ultra vires (beyond their power), then those rules can be stricken down by a court.
We're asking the judge to rule that these irrational new rules were passed with gross indifference to the six thousand unanimously negative public comments submitted by the genealogist and historian community, and as such should be striken and voided.
Ignore the genealogists at your peril
When you read our Petition, you'll see quotations from many notable people and venerable societies within the genealogical community, who took the time to give testimony and provide public comments to the Department of Health, carefully documenting all the reasons why these new rules were a very bad idea — but who were then totally ignored.
In October 2017, sixty-two genealogists even showed up at a Department of Health public meeting (see also our eighteenth newsletter) to protest the proposal of these new rules. This was more people than had shown up to any New York City Department of Health meeting on any subject in several years! Every person who gave testimony spoke out against the proposal. Not even one member of the general public submitted a comment in favor of the new stricter rules.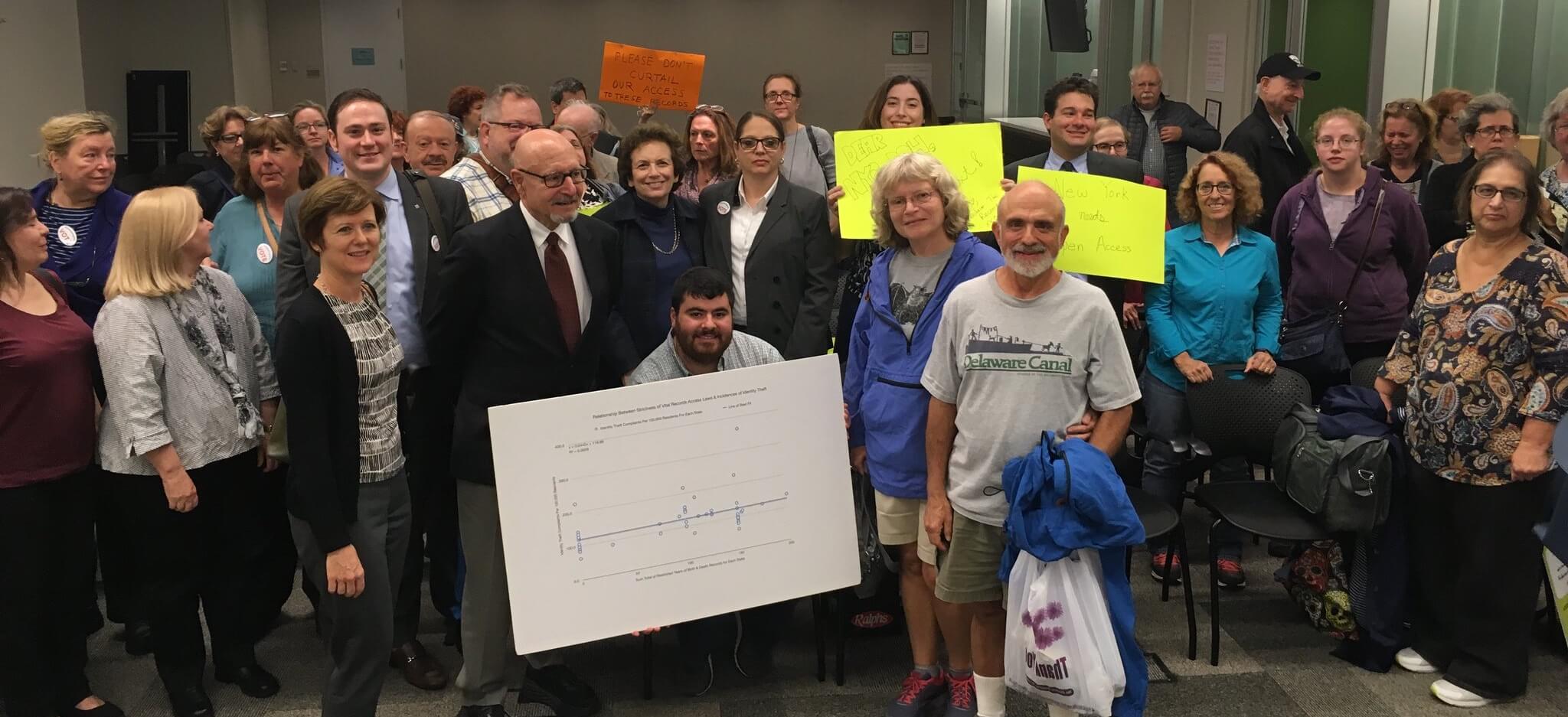 Pictured above: some of the sixty-two genealogists, historians, and adoptee rights activists who protested the proposed rule change at the New York City Department of Health public meeting in Long Island City, Queens, in October 2017.
But the Department of Health didn't listen to the thousands of public comments that poured in, unanimously in opposition to their proposed rule change.
And so in our Petition, we don't just make a legal case. We also carefully lay out the whole story of how the New York City Registrar Steven P. Schwartz bamboozled the New York City Board of Health — who are experts in health matters, but not necessarily well-versed in records access issues — with misleading statements and evasive answers, while also ignoring expert testimony, thereby leading to some of the most severe restrictions on public access to historical materials in the entire country.
Wow. Show us the documents!
With pleasure!
But wait, there's more! Check out these AMAZING affidavits!
In support of our lawsuit, we decided to get four representatives with very different backgrounds and specialties to talk about why the New York City Department of Health's access restrictions are not only irrational, but actively harmful: to their businesses, to legal cases, to the United States military, to citizenship, and even to health itself.
(You might recognize some of these names.)
Frankly, we could have probably found thousands of people with even more horror stories about trying to get records out of NYC.
Oh! And let us introduce you to our attorney!
Meet Michael Moritz, genealogist by night and lawyer by day
Michael is a fellow genealogy nerd, who has performed genealogy research for hundreds of individuals of all backgrounds and through the archival records of more than thirty countries. If you watched the recent episode of Finding Your Roots on PBS delving into author George R R Martin's family history (spoiler: there was a surprising NPE in there), Michael was the guy who did the family research.
And Michael is also an associate at the large international law firm Skadden, Arps, Slate, Meagher & Flom. (They're kind of a big deal.) Fortunately, Skadden has a robust pro bono program, and its attorneys partner with many amazing non-profit organizations who need legal help. And guess which organization Michael volunteered to assist?
This is Michael's first case with us, and we are thrilled to have him on board!
By the way, if you've noticed that the tone of this newsletter is unusually restrained for one of our publications, you can thank him for that.
What's next?
Well, now we have to wait for that long list of Respondents to, well, respond. This case is a big one, and may be tied up in court for all of 2019, maybe into 2020 as well. Even if we win this case — and that's an if, there are no guarantees, of course — we think the City will probably appeal it. After all, wouldn't you be mad if some upstart little non-profit activist group busted you for exceeding your authority as a government agency?
And speaking of little activist groups…
We need your help. This new case is a big deal for all of us, and we quite simply couldn't do this kind of work without your donations and your support. If you're enjoying this story of David taking on Goliath, then please help us take on more of them! Because there are Records Bullies in many cities and states, and we want to use the law to knock them all back down, and reclaim more records for free public use.
So, if you're interested in making a donation in support of this new case, or any of our other cases (and we have several!), we would be very grateful.
And stay tuned for even more exciting records news coming soon! ?
Paperwork and Court Filings