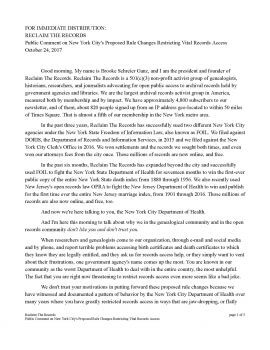 We just got back from giving public comments to the NYC Department of Health and Mental Hygiene in Long Island City, about their terrible, no-good, very bad proposed rules change to severely limit New York City vital records access. And it was ????????????.
At least SIXTY-TWO genealogists and open records supporters showed up at their office, most of whom then spoke for five minutes each against the proposed rule changes. Not a single person spoke in favor of the government's proposal. Zip, zero.
Several board members of Reclaim The Records submitted individual statements against the proposed rules, and we'll be posting all of their letters on our website for you to read. But here's the statement written by our president and founder, Brooke Schreier Ganz, and delivered right to the DOH in person this morning.