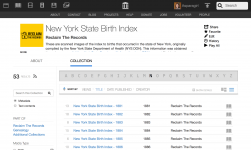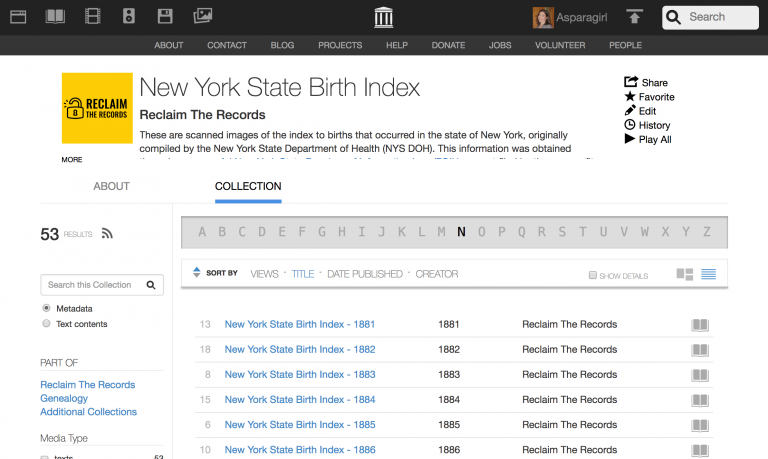 The New York State Birth Index is now online
You can browse through the images online at the Internet Archive, totally free. The records for 1881-1935 are online now, and the remaining records for 1936-1942 will be added within the next week or two. At least sixty-six pages for the year 1905 are currently missing and will hopefully be added within the next few months.
What We Did and How We Did It
In September 2017, Reclaim The Records made a new FOIL request of the New York State Department of Health (NYS DOH), asking for the first-ever public copy of the basic index to all births in New York State (minus New York City). In September 2018, after a year of working and waiting and e-mailing and finally receiving the records, we went public with the news that we had won, and published the records online.
Here's how we did it.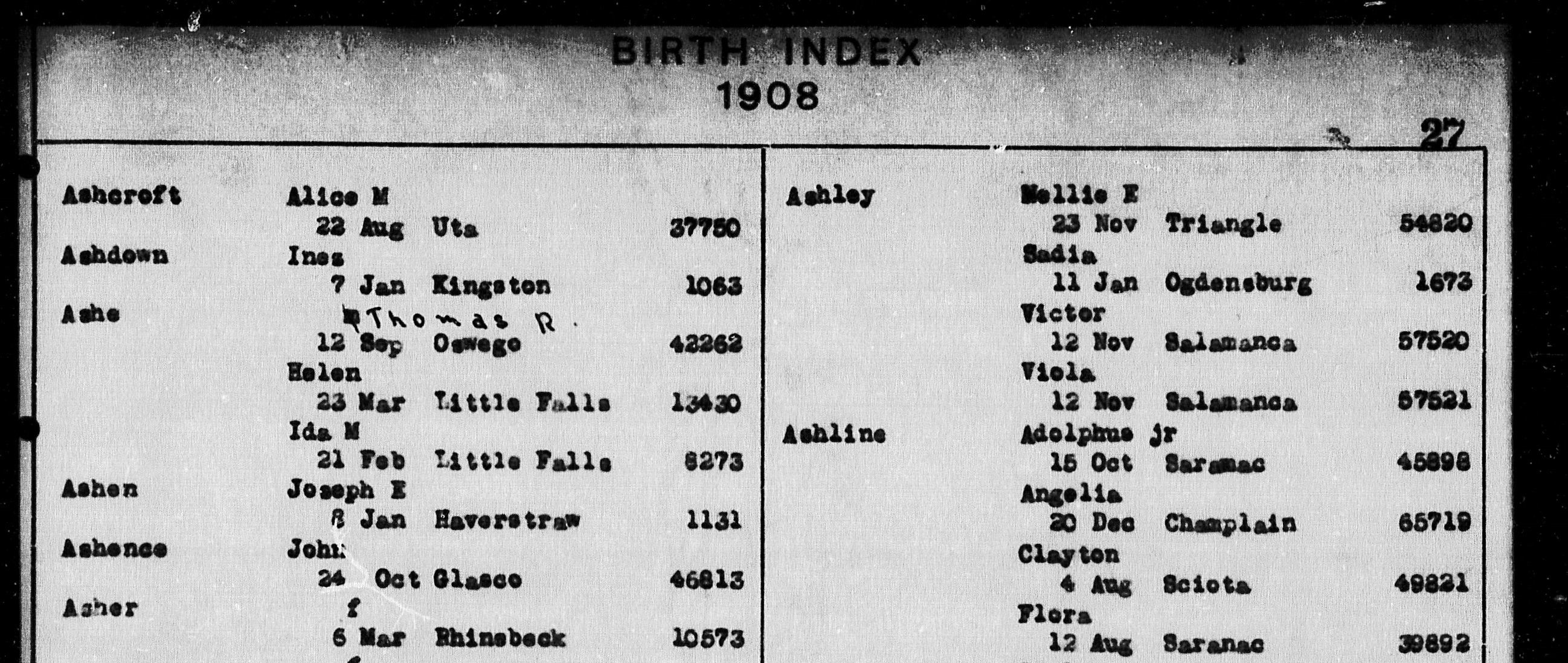 This is the text of the original request we sent, via its page on MuckRock.com:
To Whom It May Concern:

My name is Brooke Schreier Ganz, and I am the president and founder of a 501(c)(3) non-profit organization called Reclaim The Records. We use Freedom of Information laws to obtain copies of important genealogical record sets, which we then publish online for free public use, returning the records to the public domain. Pursuant to the New York State Freedom of Information Law (1977 N.Y. Laws ch. 933), I hereby request the following records on behalf of our organization:

I would like to receive a copy of the New York State birth index, from 1880 (or as early as such records are available) through December 31, 1942, inclusive. This request is for the basic index or "finding aid" only; please note that I am not requesting any actual birth certificates.

The New York State Department of Health has already compiled and made available to the public some of the years of this statewide birth index. For several decades now, the earlier years of this birth index, through approximately 1936, have been available for free public use at a number of New York public libraries. The index through approximately 1942 is supposedly available at the Manhattan branch of the National Archives (NARA). We have also heard that your office has recently told other FOIL requestors of the birth index's public availability through 1942. However, no matter the date range, this index seems to only be available in an old-fashioned microfiche format, with its public availability limited as to locations and operating hours, as well as the deteriorating quality of the microfiche sheets.

While the New York State Department of Education does control the libraries where this index is available, the state vital records microfiche there are still the property of the Department of Health, and are merely on long-term loan to those libraries. Therefore this FOIL request is directed to you at the Department of Health, and not to them.

At some point in the past there was evidently a real statewide birth index database, and it was clearly printed out on paper copies which were then photographed and turned into the state birth index microfiche sheets. Therefore, I would prefer to receive these records in a raw database format, preferably in SQL or CSV format on a USB hard drive, wherever possible. However, if that state birth database is no longer available — and if not, why not? what happened to it? — then I will settle for accepting these records as high quality digital scans of the microfiche sheets, although I recognize they may be damaged or degraded. I am willing to pay the costs associated with the records production, along with the costs of the USB hard drive and any insured shipping costs to California, if needed. Please inform me of any potential charges in advance of fulfilling my request.

This request is not being made for commercial purposes. The requested records will be scanned and uploaded to the Internet, and will be made freely available to the general public. It is anticipated that some non-profit genealogical groups may choose to transcribe the information in the birth index, to turn it into a new text-searchable database. We would be happy to share any such database with the Department of Health.

Please also be advised that this FOIL request is being filed publicly through the website MuckRock.com, and all correspondence about this request will be immediately published to the general public.

Thank you in advance for your anticipated cooperation in this matter. I look forward to receiving your response to this request within five business days, as the statute requires.
This statewide birth index was previously only available to researchers who were sitting in a small number of upstate New York public libraries, as well as the Manhattan branch of the National Archives (NARA). And even then, it was only available in an old-fashioned and difficult format, scratched-up and faded microfiche sheets. And you had to hand in your driver's license to be held hostage by the librarian just so you could see a single sheet at a time. So yeah, they were technically public records, but in practice they were not public public records.
Well now, thanks to our work, we can all research people in the New York State birth index whenever we want, from our own homes, for free. You can browse the images, download the images, re-post them to your own website, and even transcribe everything into your own database, if you want. And we're pretty sure that at least two or three major genealogy websites will be working on indexing projects to make this data truly text-searchable in the next year or so. But for now, it's image-only.
What's in the index? And what's not in the index?
This birth index is sorted by year, and then alphabetically by surname within each year. The town of birth is listed, although sometimes shown as an abbreviation, as is the certificate number.
There are handwritten additions on many of the sheets, sometimes even notating the date of death. And several of the years have a supplemental section at the very end of the year, so if you can't find someone try skipping to the end of the year to check there, too. We've also identified a few missing images here and there, including at least sixty-six missing microfiche sheets from the beginning of the alphabet for the year 1905, and we're in contact with the New York State Department of Health to have them provide re-scans where needed.
Note that this index does not contain lists of births from New York City. New York City is considered to be an entirely separate vital records jurisdiction from the rest of New York state, and consequently the city has its own birth, marriage, and death indices. However, a small number of NYC birth listings are found scattered throughout this index, either because the births happened in towns that were previously independent before the consolidation of the city in 1898 (for example, a pre-1898 birth in a place like Canarsie [Brooklyn] or Flushing [Queens] might be listed here) or because there was a late birth registration.
(We should probably mention that we at Reclaim The Records will be fighting for the first free public copy of the New York City birth index later this year, in a legal case that we've been planning for over two years. We're pretty psyched. But more on that later this year.)
Also note that births that took place in the cities of Albany, Buffalo, and Yonkers are not included until about 1914 or 1915; those three cities did not initially participate in the statewide registration of births and kept their own records.
Those old microfiche copies of the birth index at the libraries generally did not go past 1938, but we've been able to obtain and publish the data here up through 1942. Later years of the birth index may become publicly available after seventy-five years, so each January we'll make new FOIL requests for each newly-available year of data.
Oh, and a shout-out to all the "search angels" and people doing adoption research: you guys will be pleased to know that at least some (but not all) original birth names for New York adoptees are listed in this index. The state apparently got lazy and re-used the same certificate number on both the original birth certificates and the amended certificates, which tie together the old name and the new name. So hypothetically, if you wanted to read through page after page within a given year searching for a matching certificate number to find both names…well, that's a thing you could do now, although it might take a few hours. Hypothetically. ?
(This might be a good time to mention that Reclaim The Records is a strategic partner organization of the New York Adoptee Rights Coalition. We're one of the only genealogist or historian organizations in the country to publicly come out in support of the rights of adult adoptees, or the descendants of deceased adoptees, to reclaim their original and unaltered birth certificates from the state, without pre-conditions or redactions.)
Okay, I found a name, now what?
This record set is only the index to New York State birth records. If you find a name of a relative or other person of interest in this index, you can then place an order for a copy of the original birth certificate, which will have much more information on it, such as the person's place of birth and the names of the person's parents. In New York State (although not New York City), a birth certificate of a person who is known to be deceased and which is more than 75 years old is considered to be open and available to the public.
You can order a copy of a birth certificate directly from the NYS DOH in Albany. Alternately, you can also try ordering a copy from the exact city clerk or town clerk where the birth took place. This may be a lot faster than dealing with Albany, but some towns might only provide a typed extract of the information on the certificate, instead of a photocopy version.
Your best bet is to try calling the town clerk first and see if they can help you. Otherwise, send the request to Albany, but be prepared to wait up to eight months.
So, who really freed these records?
Okay, so let's talk about the elephant in the room. A few of you might have noticed that commercial genealogy behemoth Ancestry.com also put these new New York State birth index files on their website a few weeks ago. However, their image copies of these public records are, as usual, hidden behind their very expensive paywall. In comparison, all data that we at Reclaim The Records ever win or acquire is always published for free, explicitly in the public domain, and is even downloadable.
As a rule, Ancestry refuses to give any credit for records sets that Reclaim The Records has targeted, acquired, and published over the past few years, even though we always share our data freely. So we think it's only fair to give a little backstory here.
We believe Ancestry may have piggybacked on our 2017 FOIL request for these New York State birth index files, thereby getting "first dibs" access to the records (both the original microfiche sheets and the newly-digitized image files) before we did and before the general public. We know for a fact that this is what Ancestry did for an earlier record set from this same government agency, the New York State death index from the NYS DOH. For that set, we received copies of documents from the DOH showing that employees at Ancestry actually cut-and-pasted our own words from our FOIL request, and used our words for Ancestry's subsequent FOIL request, and then even had the state fulfill their request more than a year before ours, and without the same kind of restrictions the state had attempted to put on us, such as the cost of the records, the "exploding offer" timeframe for providing payment, the sign-off from a state archivist, the condition of the microfiche scanning machine (!), and more.
That whole sketchy situation is the subject of an ongoing lawsuit of ours in the Supreme Court of New York, Albany County, and you can read more about it in one of our previous newsletters. Should we win that lawsuit, we look forward to bringing to the public and the press any documentation we find about the state's financial dealings with Ancestry, which members of the press have described as a sweetheart deal.
So, yeah, they did get these records online first. But we got them online and free first, we very likely filed the original FOIL request first, and we didn't have to lift anybody's words or make a backroom deal with the state to do any of it. ?
Thank you
Thank you to our awesome New York FOIL attorney David Rankin of the firm Beldock, Levine, and Hoffman for helping us win public access to these records. Dave and his team are actually helping us with four different Freedom of Information lawsuits at the moment, two of which will be launching in the next month — including our first-ever FOIA lawsuit against a federal agency. So exciting!
What's Next?
You might be wondering: gee, those Reclaim The Records folks have now put the New York State birth index online and they recently got the New York State death index online, too. Hmmm. What about the New York State marriage index?
Well, you're very perceptive. Stay tuned. ?
Paperwork and Court Filings
Documents related to this request are coming soon.
What We Did and How We Did It
Empty tab. Edit page to add content here.